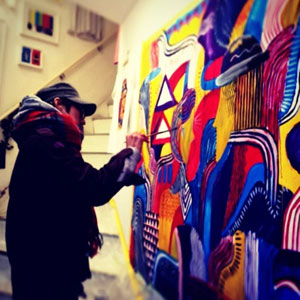 Born 1989
in Tokyo, Japan
Painter,Illustrator,Graphic Designer
主に絵画の展示やプロダクト制作、イラストレーションを中心に活動。
ファッション、カルチャーシーンにおける自己の在り方、グラフィックの在り方を追求し続けている。
2011年にはグラフィックデザイナーTakashi Uraとクリエイティブユニット"A.L.L"を結成。
ライブペイントやセルフパブリッシングの発刊など様々な活動を展開。
My main focus is centred on illustrations, products creation and art exhibitions.
I am trying to bring something unique to the fashion and culture scene by exploring the possibilities of graphics.
In 2011, together with the graphic designer Takashi Ura, I formed the creative unit A.L.L (Art'sLeapLab).
We collaborate on live painting, self publishing and various other activities.
---
EXHIBITION:
2009年 / グループ展 / NUMB exhibition (upstairs gallery 代官山 / Tokyo)
2009年 / グループ展 / 「旅」展 (Galleria Punto 池袋 / Tokyo)
2009年 / 公募展 / 第五回世界絵画大賞展 (世界堂本店 新宿 / Tokyo)

2010年 / 個展 / "Source Of…"展(Club Gallery ROPPONGI 六本木 / Tokyo)

2010年 / 個展 / "surface 表面"展(Club Gallery ROPPONGI 六本木 / Tokyo)
2010年 / 企画展 / beyond kawaii Exhibition(ポルトガル / Portugal)
2011年 / 卒業制作展 / "つくえ"(六本木ヒルズ / Tokyo)
2011年 / 企画展 / 谷口研究室 卒業制作展2011(ギャラリー5610 南青山 / Tokyo)

2011年 / 企画展 / 第5回グラフィック「1_WALL」展(ガーディアンガーデン 銀座 / Tokyo)

2012年 / 個展 / "SCREAM"展(ARTON Gallery 渋谷 / Tokyo)
AWARDS:
第五回世界絵画大賞展 入選 2010
第174回ザ・チョイス(審査員:服部一成氏) 準入選 2010
第179回ザ・チョイス(審査員:水野学氏) 入選 2011
第5回グラフィック「1_WALL」ファイナリスト 2011
HB File Competition Vol.22 最終選考 2012
関連リンク
■Kentaro Okawara Web site
■Twitter
■Facebook
■ArtsLeapLab
---