[2017/03/10]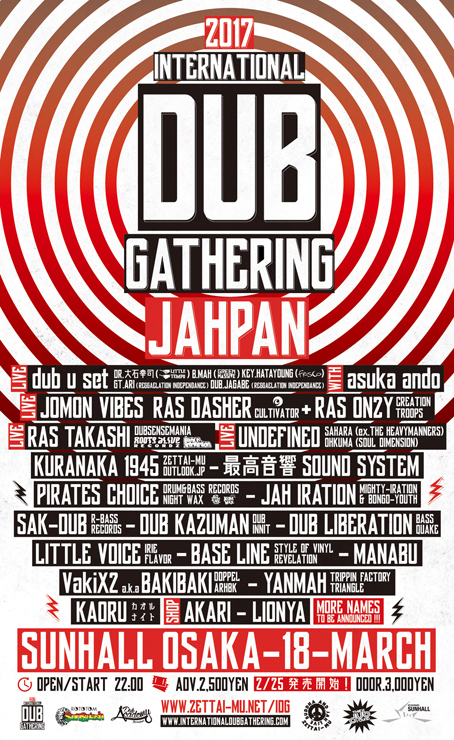 世界最大のレゲエフェスティバル"ROTOTOM SUNSPLASH"
の主催陣が行うヨーロッパ 春の巨大 Roots Dub Sound System Meeting
I.D.G. JAPAN LAUNCH PARTY 出演者発表!!
世界最大のレゲエフェスティバル"ROTOTOM SUNSPLASH"の主催陣が行う ヨーロッパ 春の巨大 Roots Dub Sound System Meeting【INTERNATIONAL DUB GATHERING】 JAPAN LAUNCH PARTY が "OUTLOOK FESTIVAL JAPAN" などを主催する"ZETTAI-MU"により開催決定!!!
場所は大阪BAY SIDE JENYY/MOTHER HALLからの魂(CREW)が引き継がれる 心斎橋SUNHALL!!
---
INTERNATIONAL DUB GATHERING 2017 JAPAN LAUNCH PARTY
開催日時:2017.3.18 (SAT)
開催時間 : 22:00 OPEN
料金 : 前売 2,500 / 当日 3,000
会場:SUNHALL , Osaka
http://sunhall.jp
TEL. 06-6213-7077
大阪市中央区西心斎橋2-9-28 サンボウルビルB2
【出演】
dub u set
DR.大石幸司 (Little tempo) / B.MAH (GREEN MASSIVE) / GT.ARI (Reggaelation IndependAnce)
KEY. HATAYOUNG (FRISCO) / DUB. JAGABE (Reggaelation IndependAnce)
with asuka ando
JOMON VIBES RAS DASHER(CULTIVATOR) + RAS ONZY(CREATION TROOPS)
RAS TAKASHI (DUBSENSEMANIA/ROOTS ALIVE RECORDZ)
UNDEFINED (SAHARA (ex.THE HEAVYMANNERS)+OHKUMA (SOUL DIMENSION))
KURANAKA 1945 (ZETTAI-MU/OUTLOOK.JP)
最高音響SOUND SYSTEM (fab-space)
PIRATES CHOICE (DRUM&BASS RECORDS/NIGHT WAX)
JAH IRATION (MIGHTY-IRATION&BONGO-YOUTH)
SAK-DUB (R-BASS RECORDS)
Dub Kazman (Dub Innit)
DUB LIBERATION (BASS QUAKE/EXODUS)
LITTLE VOICE (IRIE FLAVOR)
BASE LINE (STYLE OF VINYL/REVELATION)
VakiX2 a.k.a BAKIBAKI (DOPPEL/ARHBK)
YANMAH (TRIPPIN FACTORY/TRIANGLE)
MANABU (EXODUS)
KAORU (カオルナイト)
SHOP: AKARI / LIONYA
MORE NAMES TO BE ANNOUNCED !!!
◎ 全国のローソン、ファミリーマート、サークルK・サンクス、セブンイレブン、各プレイガイド、チケットぴあ、e+(イープラス)にて 発売中!!
・ I.D.G Japan Launch ▶▶▶ http://www.zettai-mu.net/idg#tickets
・ ローソンチケット(L-CODE:55446) ▶▶▶ http://l-tike.com
・ e+(イープラス)▶▶▶ http://eplus.jp
・ チケットぴあ (P-CODE:325-313) ▶▶▶ http://t.pia.jp
INTERNATIONAL DUB GATHERING JAPAN WEBサイト → http://www.zettai-mu.net/idg
---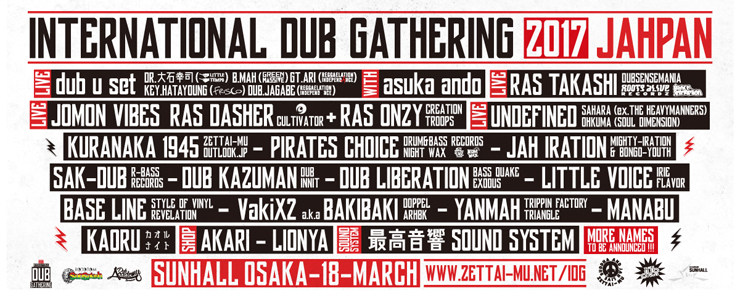 ---
Posted in
ALL ENTRY
,
EVENT
,
EVENT INFO
,
RECOMMEND
|