[2017/02/25]
---
---
先日JAPAN TOURを成功させたスペイン・マヨルカ島出身、メタル・コア バンド『NOISEAST』
JAPAN TOUR 2017の模様がぎっちり詰まったNew MVを公開!
公開に伴いメンバーからJAPAN TOURを終えてのコメントが届きました。
Jay Perez Soto(Vocal)
Noiseastでこの国でツアーするという私の夢が一つに叶いました。 私は若い頃から日本を愛していて、これは私にとって素晴らしい経験でした。 日本の文化、美味しい食べ物が素晴らしく、そして日本人がとても丁寧で、できるだけ早くカムバックしたいと思います。
私はあなた、そして日本を愛してます。
I have reached one of my dreams playing with Noiseast in this country. I love Japan since I was young so this have been an amazing experience for me. There are three things that I like the most in Japan, culture, delicious food and the Japanese people, they are so polite and it makes me feel that I am gonna comeback as soon as possible. I am in love with you JAPAN
---
Crut Ah(Ba/Vocal)
日本でのツアーは素晴らしかった、Far Channel Recordsがこのツアーのためにとても頑張ってくれた。素晴らしいバンド、素晴らしい人々と知り合えて、モリトとテラチに感謝したい。
私はまたすぐに日本に戻りたいと思ってます。
the tour in japan was amazing, all far channel work so hard and good for this tour,we know new incredible bands,incredible people,and i wanna say special thanks to morito and terachi,that guys are amazing people and amazing crew, i wanna return as soon posible
---
Juan Luis Sanchez(Drums)
このような素晴らしい経験! 私は日本で本当の夢を見てきました。 私はこの日を決して忘れません。 すべての人、バンド、毎日、そして私が生きたあらゆる瞬間が私の人生に教訓を与えてくれます。 私はこの国にすぐに戻る事を確信しています。 このツアーで私たちの父親役だった中西盛人とこれを可能にしてくれたすべての人に感謝します。 ありがとう!
What an amazing experience! I lived a real dream touring in Japan. I will never forget this days. Every person, every band, every day and every moment I lived give me a life lesson. Was a pleasure met this country and I am sure that we will comeback soon. Just can say thankyou to all people make this possible and specially to Morito Nakanishi who was our father on this tour and a member of our family since now. Thanks!
---
Rodrigo More Campos(Gt)
これは私が今回のツアーで感じたことです。
日本で出会った素晴らしい人々、出来事は忘れられないです。
すべての国、人、バンドが日本の敬意を学ぶ必要があります。 日本について誇りに思っていなければなりません。そして、美しさと丁寧さを感じる必要があります。
ギター・プレイヤー、ドラマー、ベース・プレイヤー、ボーカルなど、彼らは多くの楽器を学んでいました。 すべてのバンドはユニークで、モダンでクラシックな音楽をミックスして魅力的で驚くべきスタイルを作り、音楽を奏でていました。
私はできるだけ早く日本に戻る事ができればいいと思っています。私は、スペインやどこかの国で、日本でできた新しい友人と会える事を楽しみにしています。日本人は世界最高の人です。
Sometimes there's no words to explain what you are living. This is what i was feeling when i was touring with my band in japan..
Will be hard to forget all the things the people and new friends make us feel in this beautiful country.
All the countries, people and bands need to learn about the japanese respect. You must feel proud about Japan, and all the beauty and polite you can bring to the rest of the countries.
Every guitar player, drummer, bass player, singer, etc… they had been learn a lot of his instrument. Every single band is unique, they mix all the modern and classic music to make crazy and amazing styles, another way to understand the music.
I hope i can be in Japan soon as is possible, and i hope i can see my new friends again in Japan, in Spain or someplace, cos Japan people is the best people in the world.
---
Juan Carlos Fernández(Gt)
私は日本を愛しているので、小さい頃から日本に行く事を夢見てました。
文化、音楽…私はそれを感じれて、これを実現させてくれた皆さんに感謝したいと思います。
日本人の礼儀と寛大さを感じ、この美しい国をもっと愛させてくれました。
Since I was a little kid I've always wanted to visit Japan because I love everything about it. Its culture, its music … Now that I've visited it I just want to say thank you to everyone who made this possible. Japanese people and its politeness and generosity made me love even more this beautyfull country.
---
MORE INFORMATION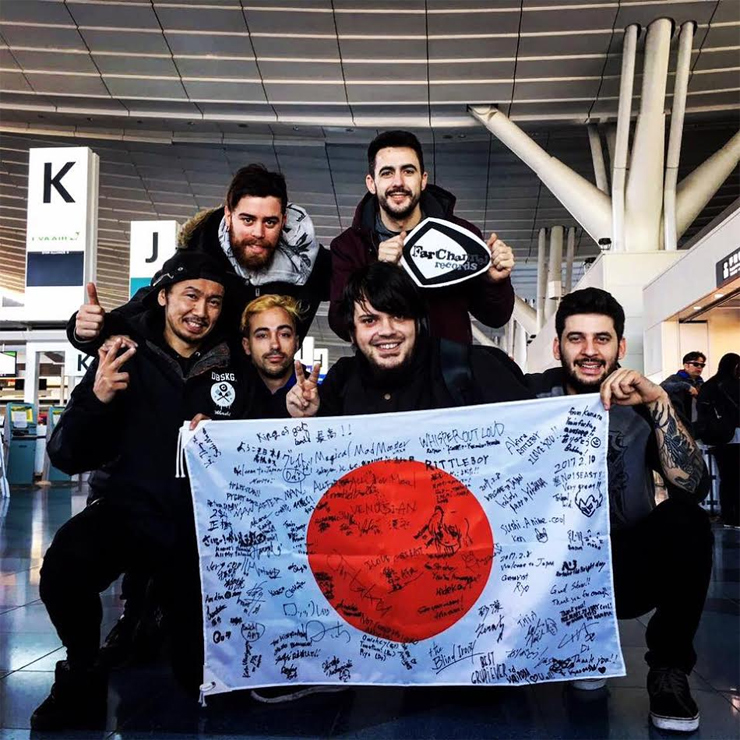 NOISEAST Facebook page
https://www.facebook.com/noiseast/
NOISEAST(Far Channel Records page)
http://www.farchannelrecords.com/noiseast

Far Channel Records
http://www.farchannelrecords.com
---
Posted in
ALL ENTRY
,
MOVIE
,
NOISEAST
,
RECOMMEND
|