[2016/11/20]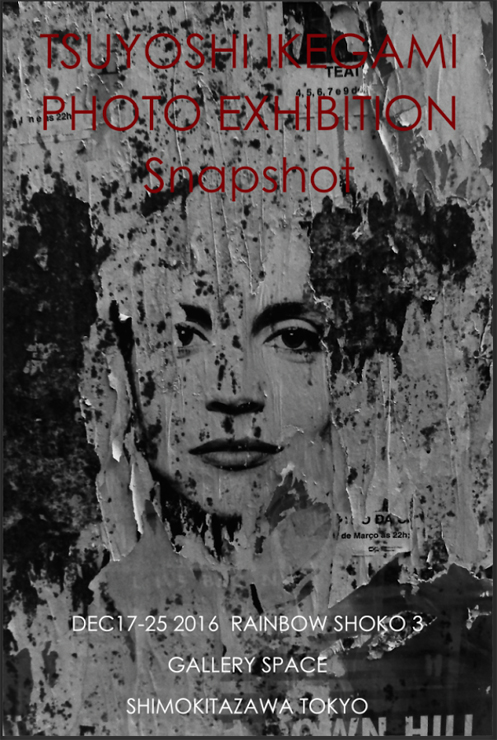 『Tsuyoshi Ikegami PHOTO EXHIBITION /Snapshots』
今回の個展テーマは『旅』。
世界中の色々な街を旅して歩きまわって撮った写真を展示します。
様々な旅の中で切り取った写真から旅先の匂いを感じて頂ければと思います。
会場では作品の販売はもちろんTシャツ等のグッズの販売あります。
また、今回の個展では色々なアーティストやメーカーさんとコラボレーションも予定しています。
Opening & Closing Partyの他の日でも毎日,ライブやDJなどの色々なミュージャンも来てくれる予定です。
お酒を飲めるスペースもありますのでどうぞお気軽にお越しください!
---
【会場】
レインボー倉庫3F ギャラリースペース
〒155-0031 東京都世田谷区 北沢2丁目19−5 レインボー倉庫3 
【会期】
2016年12月17日(土曜日)~12月25日(日曜日)
【時間】
12:00~22:00
【入場料】
無料
【Opening Party】
12/17(土) 17:00-20:00 / LIVE(donation) : 山崎円城(FIB JOURNAL) Special Unit
【Closing Party】
12/25(日) 17:00-20:00 / LIVE(donation) : Cocofly(Acoustic reggae unit)
Travel Photography
New York City > San Francisco > Paris > London > Glastonbury > Marrakesh > Madrid >
San Sebastián >Barcelona > Lisbon > Prague > Kathmandu> Bali > Ho Chi Minh> Hong Kong >
---
"Tsuyoshi Ikegami PHOTO EXHIBITION / Snapshots"
Venue: Rainbow warehouse 3F Gallery space
Address: 〒155-0031 Tokyo Setagaya-ku Kitazawa 2 – chome 19-5 Rainbow warehouse 3
Dates: December 17 (Saturday) – December 25 (Sunday)
Time: 12: 00-22: 00
Admission: Free
Opening Party: 12/17 (Sat) 17: 00-20: 00 / LIVE (donation): Yamazaki Yuuki (FIB JOURNAL)Special Unit
Closing Party: 12/25 (Sunday) 17: 00-20: 00 / LIVE (donation): Cocofly (Acoustic reggae unit)
---
-collaboration with-
DOARAT http://www.doarat.jp/
fragrance-yes http://www.fragrance-yes.com/
Bub Lamp https://www.facebook.com/bublamp/
Snack YOSHIKO
-Supported by-
it's a Beautiful day http://beautifulday.jp/
rainbow SOKO https://rainbowsoko.com/
---
Photographer:Tsuyoshi Ikegami
池上 剛
主にポートレート、ファッション、ライブ、風景などの撮影を中心にCD、DVDのジャケット、雑誌、広告等で活動中。
大学卒業後、Yoshida&co.で サラリーマン生活を送るが、独学で写真を学びヨーロッパにバックパック旅行した後フリーランス・フォトグラファーになり独自のスタイルで感性を生かした方法で被写体を切り取る。
またライブ撮影でもFUJI ROCK ,SUMMER SONIC,B'z,X Japan 等のビッグネーム、ビッグフェスティバルからのオファーを受けてオフィシャル・フォトグラファーとしても撮影してる。
また、ほぼ無人島のフェス Ushimado Natural Camp のオーガナイズも手掛けている。
Works mainly on CD, DVD covers, magazines, advertisements, mainly focusing on portraits,fashion, concerts, landscapes etc.
After graduating from university, he worked at Yoshida & co. as a salesman. But self-studied photography and backpacked around Europe to become a freelance photographer. Mainly focuses on cutting out the subject in a way that makes the use out of sensitivity in his own style.
As for shooting concerts and music events, he is an official photographer for FUJI ROCK,SUMMER SONIC, B'z, X Japan etc. Receiving various offers from Big Festivals.
In addition, he is also an organizer for a music festival called the Ushimado Natural Camp held on a deserted island in Japan.
Tsuyoshi Ikegami Web site
http://www.ike3.net/
---
Posted in
ALL ENTRY
,
EVENT
,
EVENT INFO
,
RAINBOW SOKO 3
,
RECOMMEND
|