[2017/02/19]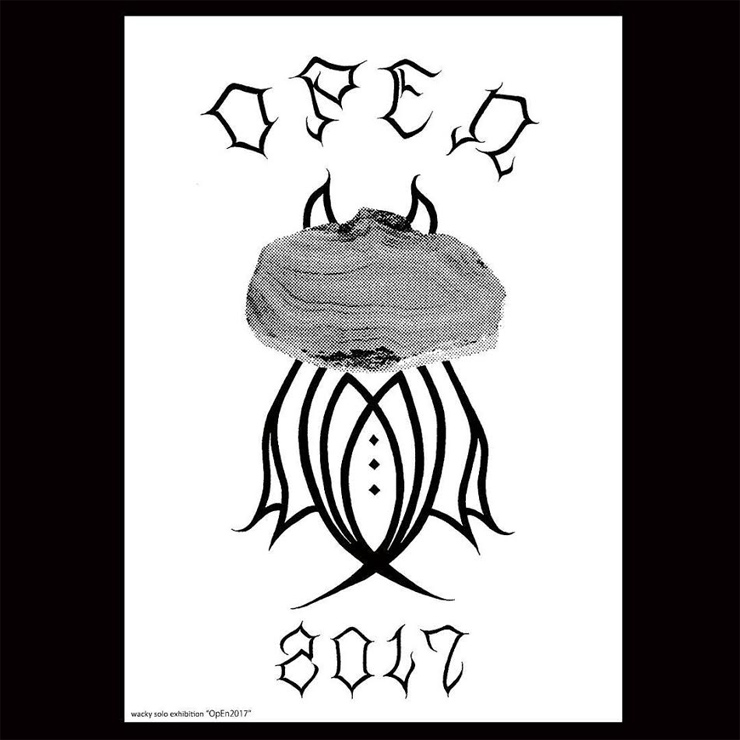 ---
wacky solo exhibition -『OpEn2017』
3月のレインボー倉庫下北沢 ウォークギャラリー アーティストはシルクスクリーン作家/オルタナティブ創作家のWACKYの登場。
-日程-
2017.03.18(土)~04.02(日)
-会場-
レインボー倉庫下北沢 ウォークギャラリー
〒155-0031 東京都世田谷区北沢2-19-5
-関連イベント-
2017/03/18 (土) 19:00~morning
opening party "BLACKSHEEP vol.89"
@ERA & レインボー倉庫3
more info soon …
---
wacky
シルクスクリーン作家/オルタナティブ創作家。
"CLOSEDOPEN"をモチーフに、Alternativeで真新しい表現手法を日々模索し、決行しています。
2016年4月、自身初のシルクスクリーンポスター作品展"ThoughtographT"を京都にて開催。
毎年真夏のビーチに創造されるネバーランド"BEACHWHISTLE"首謀者の一人。
インスタレーションユニット"COLORgung"とフリーダムパーティー集団"BLACKSHEEP"所属。
今回の個展"OpEn2017″では、シルクスクリーン作品に加え、新しい感覚を取り入れたドローイング作品の展示も予定しております。
Silk screen artist / Alternative Creator.
Using "CLOSEDOPEN" as a motif,
I explore the brand-new expression method with Alternative every day and make decisions.
Silkscreen poster work exhibition "Thoughtograph T" is held in Kyoto in April 2016.
One of the mastermind "BEACHWHISTLE" mastermind behind the spirit of T.A.Z.(Temporary Autonomous Zone).
I belong to the installation unit "COLORGung" and the freedom party crew "BLACKSHEEP".
---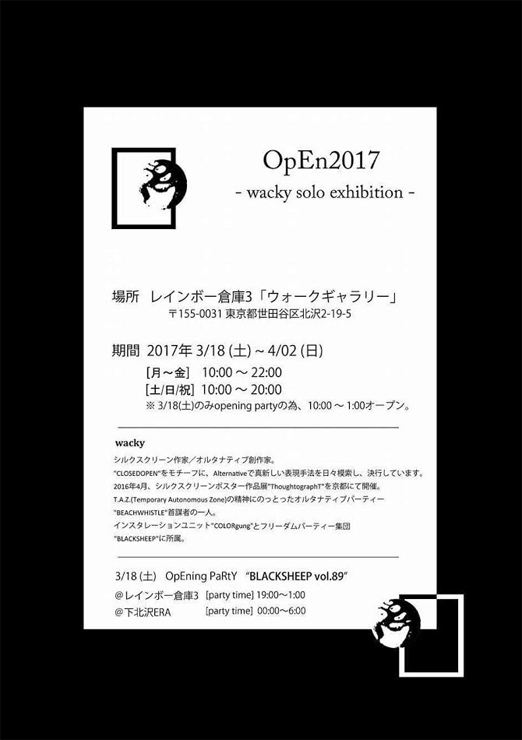 ---
Posted in
ALL ENTRY
,
EVENT
,
EVENT INFO
,
RAINBOW SOKO 3
,
RECOMMEND
|