SCRIBBLE JUNKIE® / スクリブルジャンキー®
2012年1月本格始動した"絵師JERICHO"のプロデュースによる"新世代PUNK"ブランド。ブランドネームにもなっている"ラクガキ=SCRIBBLE"をテーマにPUNK魂全開の無骨アイテムを生み出している。
ローブローアート、バンドサウンド、SK8シーン等の従来のロックカルチャーを背景に、JERICHOが新たに描きおこすオリジナルの"ラクガキ"はまさに新世代PUNK!!
しかし"ブランド"とは言っても、そこらのいわゆる"ブランド"とは定義が異なる。スクリブルジャンキー®は「低俗である」事をスタンスとしている。テーマにかかげている"ラクガキ"、スタイルの"ジャンクギア"というフレーズからもそれは伝わると思うが、あくまでパンクに、そしてジャンクにその"反骨精神"を表現して行くつもりだ。
"どーせ俺たちゃ低俗だ!気取らず雑にパンクスしよう!"
それゆえ、そんな想いを価格帯にも反映している。
今後もSJでは本質的な意味での「現代のPUNX像」を追い求めて行くのでその動向を要チェックだ!
絵師/JERICHOが描き出す スクリブルジャンキー®の世界は今後ドンドン拡大していく!スピードをあげるぞ!乗り遅れるな!
ラフに自由に着潰せる無骨な「JUNK GEAR/ジャンクギア」。
バカなあんたに着て欲しい。
さあ、ラクガキを始めるぜ!
It will start in Japan in January, 2012.
Clothes is sold in Japan.
"SCRIBBLE JUNKIE®" is the "new generation PUNK brand" by producing of "painter JERICHO".
The rough item of PUNK soul full open is produced on the theme of "SCRIBBLE" which is also a brand name.
Original "SCRIBBLE" which JERICHO newly starts is just the new generation PUNK against the background of the conventional Rock cultures, such as a low blow art, a band sound, and SK8 scene,!!
However, although it is a "brand", definitions differ as what is called a "brand" about there.
Although it thinks that it is transmitted also from "SCRIBBLE" and the phrase the "junk gear" of a style which can be being smelled to the theme, he plans to express the "rebellious spirit" to a blowout and junk, and to go to them to the last.
" -- we are inferior at any rate! I will PUNX, without putting on airs! "
So, such a thought is reflected also in a price range.
Since "the present-day PUNX image" in an essential meaning is pursued and it continues to go by SCRIBBLR JUNKIE®, it is a check required about the trend!
"Painter JERICHO" pictures.
The SCRIBBLE JUNKIE®'s ? world will be expanded rapidly from now on!
Speed will be gathered! Don't miss!
Rough "JUNK GEAR" which is worn freely rough and can be crushed.
I want foolish you to wear.
Now, SCRIBBLE is begun!
関連リンク
関連記事一覧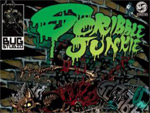 "絵師JERICHO"のプロデュースによる新世代ブランドSCRIBBLE JUNKIE® / スクリブルジャンキー® より JERICHOの世界観が表現されたポスターが登場! Profile of […]