[2015/06/13]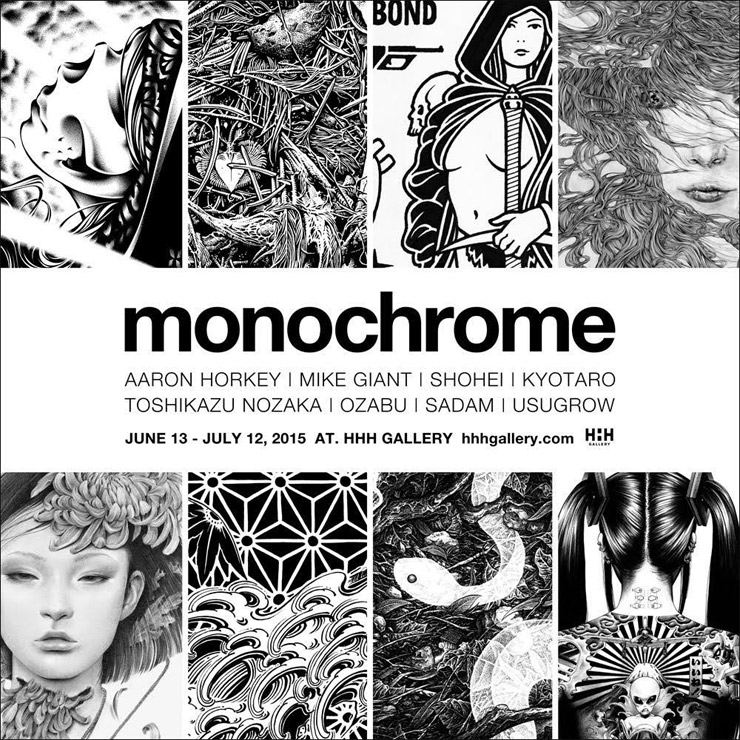 ---
鉛筆、シャープペンシル、ボールペン、マーカー、インクペン、筆。アーティスト達はそれらのシンプルな道具をありのまま使って、無垢な紙、画布の上に、余白を色彩に変えながらモノトーンの世界を紡ぎ上げます。引いていく潔さと足していく緊張感をもって。
マーカー1本で現代のアイコンを描き続けながらグラフィティ、タトゥーアーティストとしても活動するマイク・ジャイアント。繊細なペン画と箔押し、エンボス、活版印刷などアナログな手法を追求した作品を製作するアーロン・ホーキー。イラストレーターとしてボールペンで日本の現代風俗を描くSHOHEI。日本の伝統、精神性を画家として表現しながらスケートボーダー、分身師としても活動する野坂稔和。鉛筆によるドローイングで絵本制作や個展など、様々な分野でスピリチュアルなメッセージを発信するKYOTARO。日々のスケートボードライフ、自然をインク&ペンで描くSADAM。シャープペンシルで日本文化、ファッションの要素を織り交ぜながら漆黒のファンタジーを描くOZABU。製図用ペンを使用した繊細なイラストレーション、筆によるカリグラフィで様々な媒体に作品を残してきたUSUGROW。
それぞれのアーティスト達は活動する分野は違いながらも、時流に流されること無く培って来たシンプルでアナログな手法と技術は、多様性極まる現代のアートフォームの中では、むしろ新鮮さと安心を感じさせます。アーティスト達のこれ以上無いシンプルで達観したアプローチは、多くの選択肢に迷う人々に小さなヒントを与えてくれるかもしれません。
各アーティストからはオリジナル作品、プリント作品が出展され展示販売されます (一部を除く)。アーロン・ホーキー、マイク・ジャイアントの原画作品の展示は日本初となります。また、このグループ展の為に製作される全アーティスト参加のジンも発売になります。
MONOCHROME (モノクローム展) は6月13日から、本展示参加の国内アーティストを招いてのオープニング・レセプションも同日14時から20時まで開催。予約不要・どなたも無料にて参加可能です。
MONOCHROME group exhibition
Curated by USUGROW
Featuring AARON HORKEY, MIKE GIANT, SHOHEI, KYOTARO, TOSHIKAZU NOZAKA, OZABU, SADAM, USUGROW
opening reception: June 13 (SAT) from 14:00 to 20:00
The event is free and open to the public
June 13 – July 12, 2015
12:00 – 20:00 on every SAT/SUN & National Holidays
at HHH gallery
HHH Gallery is pleased to invite you to MONOCHROME, a group show curated by USUGROW featuring Aaron Horkey, Mike Giant, SHOHEI, Kyotaro, Toshikazu Nozaka, Ozabu, Sadam, and Usugrow.
The tools these artists use are simple: pencils, mechanical pencils, black markers, ink pens, ink brushes, and everyday ball-point pens. However, by carefully utilizing white space not as "blank," but rather as information to describe space and color, these 8 artists transform pure, untouched white canvases and paper into detailed and complex monochrome landscapes. To achieve this, the artists must enter a fierce yet meditative state of resolve as they add lines to slowly weave their worlds.
MIKE GIANT: In addition to writing graffiti and designing tattoos, Mike Giant uses as single signature marker to depict modern icons. AARON HORKEY: Aaron Horkey produces works through a variety of analogue techniques; gold-foil press, embossing, letterpress, and finely crafted pen and ink drawings. SHOHEI: As an illustrator, Shohei uses ballpoint pen to depict modern-day manners and customs of Japan. TOSHIKAZU NOZAKA: While representing Japanese tradition and spirituality through the lens of an artist, Toshikazu Nozaka leads a double life as a skateboarder. KYOTARO: Through pencil drawings, Kyotaro shares her spiritual messages across a wide variety of spheres, including picture books and gallery exhibitions. SADAM: Sadam renders everyday skateboarding life and nature scenes in pen and ink drawings. OZABU: Interweaving elements of fashion and Japanese culture, Ozabu uses a mechanical pencil to draw jet-black fantasy. USUGROW: Usugrow has made his mark on the art world creating artworks in various mediums, namely brush calligraphy and detailed illustrations using technical pens.
Within their respective spheres of the art world, each of these 8 artists have rejected hi-tech market trends, instead returning to simple, analogue methods of creation. In an age where the art world overflows with an abundance of art styles and mediums, their simple approaches to craftsmanship stand out, providing a sense of relief and freshness to viewers. Indeed this philosophy extends beyond just that of art-making, and may serve as a hint to those who find themselves lost in a massive sea of choices.
In addition to original artworks, prints created by each artist will be displayed and available for purchase at the gallery (some artworks excluded). This will be the first-ever Japan exhibition for artists Aaron Horkey and Mike Giant. A Zine featuring artworks by all artists participating in the show will be sold at the gallery.
HHH gallery ( http://hhhgallery.com )
2-21-17 Kosuge, Katsushika, Tokyo
東京都葛飾区小菅2-21-17
---
Posted in
ALL ENTRY
,
EVENT
,
EVENT INFO
,
HHH gallery
,
RECOMMEND
|